Voltage Regulation, Power Conditioning, & Backup All In One
Why Battery Backup Power, Inc?
Battery Backup Power UPS Systems Provide Automatic Emergency Backup Power, Voltage Regulation, And 5 Tier Power Conditioning To NASA, Professional Racing Series, Server Farms, Data Centers, School Districts, 3D Printer Additive Manufacturing Facilities, Medical Offices, Small Businesses, Laboratories, And Universities.
Most of our base systems can be customized by our factory in Costa Mesa, California to meet specific voltage, frequency, receptacle type, and power cord requirements. Our base systems come with maintenance free, valve regulated, sealed lead acid batteries, but we also offer optional long life lithium iron phosphate batteries upon request. 
Need help? Let our engineers do all the work to ensure you find a system that will work with your equipment and meet your backup time requirements. Chat is available in the bottom right corner of this page, you may also Email engineering@batterybackuppower.com, or give us a Call at (855) 330-7799.
Check Out Our Product Catalog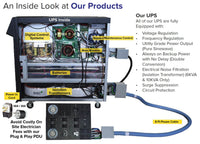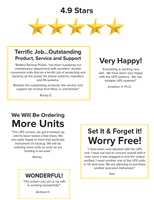 USA Based Customer Support
Customers are the most important part of any business. Ensuring that our customers get what they expect, are happy with their purchase, and have someone to talk to when questions come up is our main priority. Don't take our word for it, check out our reviews! Need help now? Call (855) 330-7799, Email engineering@batterybackuppower.com, or CHAT with us (bottom right hand corner). 
Check Out Our Blog!
Location
Corporate Office
29714 Avenida De Las Banderas, Suite B
Rancho Santa Margarita, CA 92688
Mon - Fri, 9am - 5pm
(855) 330-7799