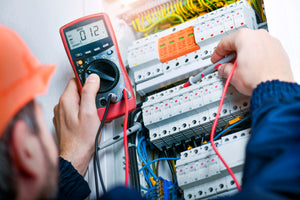 Battery Backup Power, Inc with its partners is able to install an ESS (Energy Storage System) free of charge at commercial and industrial facilities within California to reduce that facility's electric bill by 25%.
Battery Backup Power, Inc partners are part of the California ISO (California Independent System Operator) network and are registered as an electrical energy producer. 
HOW IT WORKS:
At no cost to you (other than the site inspection fee), we install an ESS (energy storage system) at your commercial or industrial facility that charges during low rate hours and auto engages during peak demand charge hours reducing the cost of your electric bill by 25%. 
Our system provides your facility with power during peak hours and sells back power to the grid at peak demand hour prices which is how we pay for the system while reducing your electrical bill. 
Depending on how large your facility is and how much room you have, we will either install smaller modules in your facility or install a cargo container with batteries outside your facility (see below). 

NEXT STEPS: 
The next step is to pay for the site inspection fee (add to cart and checkout) so we can send out a representative to map possible installation locations, inspect your facility's electrical setup, and collect your electrical interval data (last 12 months of electric bills). Use the shipping address to indicate the location you would like us to evaluate for the CVP program. We will call you to coordinate a site inspection after the site inspection fee is processed. 
After the site inspection, we will provide you with an agreement to review (usually 3, 5, or 10 years) that shows your savings and allows us to operate at your facility for the period of time we need to recover our costs. At the end of the period, you may choose to have us remove the equipment/batteries or renew for continued savings.