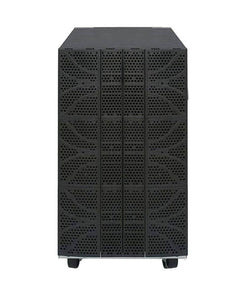 The external battery pack can be added to any of the UPS models listed below. It greatly extends the battery backup time to the UPS it is attached to via the easy click connect port/cable. Multiple external battery packs can be daisy chained together. 
This is different than the standard external battery pack option available for certain UPS models as it only works with the 6 kVA and 10 kVA DSP models, can be daisy chained up to 5 total (not including the UPS which also contains batteries), and contains triple the batteries.
Each EBP (external battery pack) with built in charger typically adds 5 hours and 14 minutes to a continuous 1,000 watt load. For assistance with your specific backup time requirements, please contact us by chat (bottom right corner), email (engineering@batterybackuppower.com), or by phone (855-330-7799).
Compatible With The Following Battery Backup UPS Models:
Specifications:
-Model Number: BBP-ADV-10000-PSW-ONL-EBP
-Physical Dimensions: 11.3" X 27.6" X 25.9" Inches (W X H X D)
-Physical Weight: 465 lbs.
-Battery Configuration: 60x 12 Volt 9 Amp Hour Batteries
-240 Volt DC Bus